How To Build A Blog Audience The RIGHT Way
Here are 5 favorite techniques from Carly Stec, Content Marketing Manger, IMPACT, that will inspire your efforts and help you start generating more subscribers today.
1. Follow the "Zuckerberg Principle" 
If you're not familiar with the "Zuckerberg Principle" (read on)  Noah Kagan who is the Chief Sumo at AppSumo, (a "medley burrito of the greatest, geekiest products for entrepreneurs")  But before AppSumo, Kagan had the pleasure of working with Zuckerberg himself, as employee #30 at Facebook.
During Noah Kagan's time at Facebook, Zuckerberg urged his employees to focus on one goal at a time (a.k.a. "The Zuckerberg Principle.")
According to Kagan, when you have one goal, it helps you to make very clear decisions.  "If it gets me more email subscribers, I'll do it, if it doesn't, I won't do it," says Kagan.
Once you define a goal (generating more blog subscribers), you can then define where you are now as opposed to where you want to be.
With a clear picture of these numbers, you can determine exactly what you need to produce daily to reach that goal.
At the end of the day, knowing what your target for the day or week is makes it simple to execute and adjust your strategy accordingly.
2. Make your CTAs benefit-driven
Truthfully, urging your visitors to "subscribe here" is often times not enough to propel them into action.
In fact, it's likely that your meager attempt would be met with a question like "Why?" or "What's in it for me?" 
If you really want to convert more visitors into subscribers, your call-to-action should focus on clearly answering these questions.
To demonstrate the value of subscribing, you'll want to focus on benefits.
3. "Gate" your top 5 most-visited pages
Rather than scramble to drive traffic to a subscription page, consider the benefit of creating blog subscribe opportunities on your top 5 traffic-driving pages.
By "gating" the pages that people are already visiting regularly, you're going to get more eyes on your CTA, and in turn, generate more subscribers.
Don't know what your top 5 most visited pages are?
4. Conduct some A/B tests
So you're generating some blog subscribers right now, but could you be generating more?
It's tough to tell if you live and die by a single approach, which is precisely why you should be A/B testing.
A/B testing the elements that contribute to turning blog visitors into blog subscribers has the ability to reveal insights that could double, maybe even triple, your current standings.
Don't know where to start?
Consider running tests on any of the following factors:
Copy: Like the insulation blower example we highlighted above, it's no secret that small content tweaks have the ability to produce big results.
Color: Choosing the most effective color for your call-to-action shouldn't be a decision you make based off personal preference. While you may love purple, a comparative test could reveal that orange is, in fact, more effective in terms of grabbing attention.
Social proof: Want to boost the credibility of your claims? Incorporating a bit of social proof (i.e: Join 10,000 other subscribers) in one variation may help to boost conversions by alleviating the fear of being first.
5. Leverage heat maps
Web users spend 80% of their time above the fold, and just 20% below ( according to a 2010 study )
Point being, if your only subscribe option is below the fold, you might be missing out on opportunities.
To determine how their readers were divvying up their time, IMPACT used CrazyEgg to generate a heap map of one of their blog posts.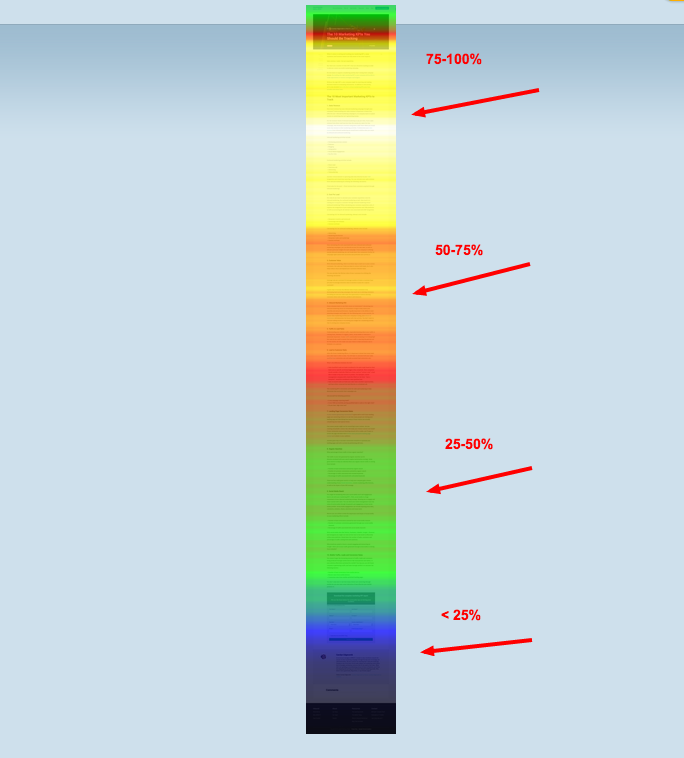 As you can tell, engagement drops off significantly towards the end of the post. So while the recency effect states that people are apt to remember the last thing they see on a page, they often times never even make it that far. 
To combat this, IMPACT incorporated a subscribe banner at the very top of the page to capture email addresses where the eyeballs are….
If you enjoyed this post and found TONS OF VALUE, please take a moment and share….Thank You 🙂
Sharing Is Caring!
To Your Success,
Joan Harrington